ECCS Unveils new School Playground
The ECCS school community gathered to cut the ribbon opening their new playground. Grade 8 teacher Eileen Aitchson who spearheaded the fundraising drive that built the new basketball court, mud kitchen, playhouse, free path and tire play area, was joined by special guests.
Timmins Youth Wellness Hub Takes Place at OHS this Saturday
O'Gorman High School looks forward to hosting the Youth Wellness Hub this Saturday, October 19th from 12 noon to 8pm. We proudly support the Timmins Youth Wellness Hub and the great work it does. #ogormanhighschool #necdsb #youthwellnesshubtimmins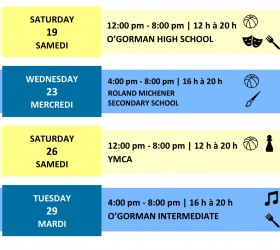 O'Gorman High School Students Visit Timmins Museum
On October 9, students in Mrs. Kelly's Grade 11 and 12 English classes at OHS participated in an excursion to the Timmins Museum. Students listened to a talk by Felicity Buckwell, curator of the Benjamin Chee Chee exhibition at the Temiskaming Art Gallery.