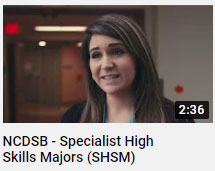 Specialist High Skills Majors allows students to customize their learning to match their career interest. These programs are Ministry of Education approved and they focus student learning on specific economic sectors.
Currently, O'Gorman High School offers two SHSM programs:
Health and Wellness
In these programs, students must complete:
• a bundle of 8-10 courses
• a co-op placement related to their career interest
• certification and training (done free of charge)
• reach ahead experience
• career exploration activities
SHSM graduates will receive an embossed SHSM seal on their Ontario Secondary School Diploma and a SHSM Record Card that documents the courses, training and certifications earned.